Denver Business Journal | June 10, 2016
2 local companies see the evolving fortunes of small cable companies not as a gloomy struggle for survival, but as an enormous opportunity.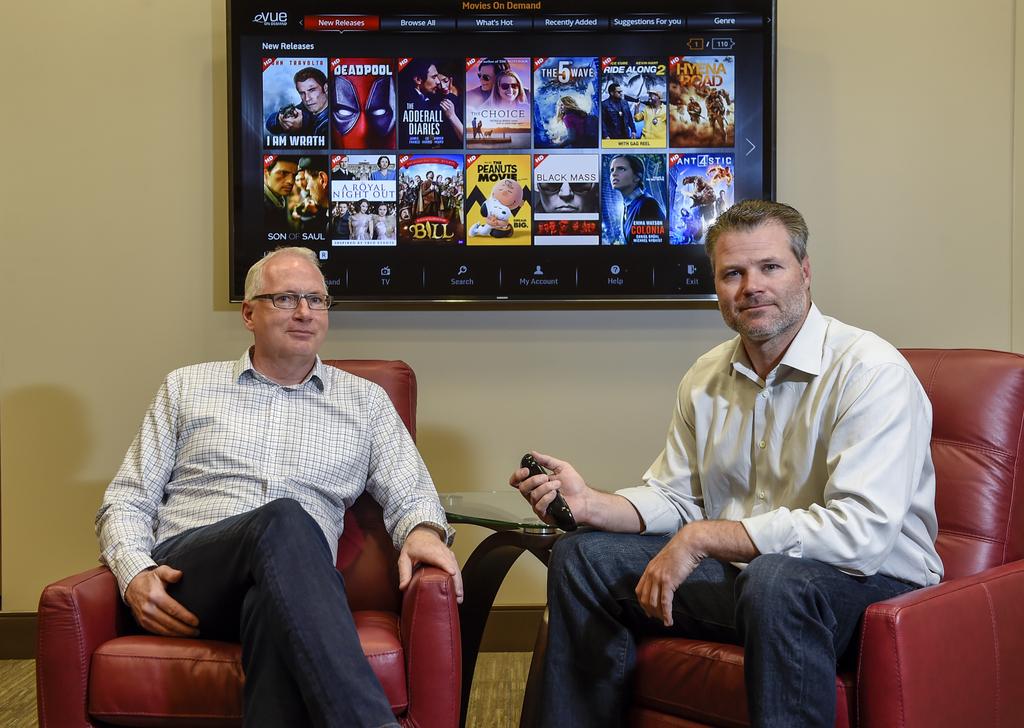 At a time when a cable subscription has never been more optional, a pair of Denver-area companies are showing small cable TV businesses around the country how to survive.
TV delivered over satellite and fiber-optic lines has lured away millions of customers to competitors. Want to watch the NBA finals, "Kung Fu Panda 3" or the latest "Game of Thrones" episode? Today there are apps for that.
While national cable giants like Comcast Corp. and Charter Communications Inc. can keep customers happy offering a slick in-home experience, there are hundreds of smaller cable operators outside the U.S.'s major population centers that don't have the resources to adjust.
But one local company is creating dozens of jobs by developing technology to help small cable operators keep their customers happy. And another Colorado business is finding growth by embracing its customers' impulse to walk away from the classic cable TV bundle.
What they're doing provides a glimpse of how small-market cable TV companies may survive in the future. And they're finding big opportunities in the process.
Both companies are based in Denver's southern suburbs — a place where the seeds of the modern cable TV industry were planted in the 1970s.
Colorado is dominated by two cable TV operators: Comcast in the larger cities and Charter almost everywhere else. That's much like the country as a whole due to industry consolidation in the biggest TV markets.
But go outside the big cities and major population corridors in the U.S., and hundreds of small cable operators are grappling with the same unprecedented competitive pressure in the video realm, but without the technology resources of the top-tier cable companies.
"They didn't used to have to worry about innovating and keeping customers happy," said Jeff Kagan, an independent analyst in Atlanta who's watched the cable TV and wireless industries for years. "Today they do. The threat is that the customer will go where there's innovation and lower prices."
Losing video religion
The speed with which app-driven streaming video viewing has been adopted is easy to forget.
Netflix Inc. shifted from DVD delivery by mail to emphasize streaming in 2011, and today it's the largest subscription video service worldwide with more than 67 million subscribers. Then, Douglas County-based Dish Network Corp. offered multiple cable TV channels via a live streaming internet service when it unveiled Sling TV in early 2015.
"You look back five years, and none of this existed. It's brand new," Kagan said. "We're in the early innings of wholesale transformation of cable and the larger telecommunications industry."
He and others in the industry predict dozens or hundreds of small cable operators could risk going out of business if they can't adapt and find a way to offer the wider range of video technologies that consumers want.
WOW (formerly known as WideOpenWest), a Denver Tech Center-based operator of cable TV in the Midwest and Southeast, knows that challenge well.
The privately held company went through a difficult stretch. But this year it's been adding subscribers again doing it by not being married to the product that has been a core part of cable's identity — bundles of cable TV channels.
If someone wants to be a cord-cutting video streamer, WOW will help them do it by offering affordable broadband connections. In some markets it mixes service bundles of phone service and internet without video, or slimmed-down channel offerings with broadband tailored for people who want a little cable and subscribe to Netflix, HBO Now or other video apps on the side.
"We really changed our strategy to be an internet-led company — we refer to ourselves as video-agnostic," said CEO Steven Cochran. "Instead of fighting it, let's just embrace it. We don't feel like we're losing anything, we feel like we're gaining."
The 700,000-subscriber company is unusual in that it's a second cable TV provider in many of its markets.
Cable TV companies are usually locally-licensed franchises that operate as monopolies and facing no cable competition in their territories.
In the 1990s, many cities started granting second and third cable franchise licenses hoping competition would drive down prices. WOW was among the companies that rushed to build second cable networks in some of those communities.
Most of those second-tier cable providers eventually disappeared because the investment proved too great. But WOW survived, holding onto customers in metro areas such as Detroit, Chicago and Evansville, Indiana, where it competes with larger, established cable operations.
That legacy left WOW with a scrappy flexibility that's come in handy today.
"We're the poster child for competition," Cochran said.
As such, WOW's experience provides a glimpse into what small, monopoly cable providers may do to survive the new competitive environment in coming years.
After struggling through a merger integration, losing customers and laying off employees in 2014 and much of 2015, WOW has returned to subscriber growth by offering high-speed internet connections only, or very basic cable TV packages bundled with high-speed internet.
Cochran said the company is willing to experiment with nearly any combination of high-speed internet, voice and video in order to win a customer. He said it aims to keep that customer with good service and pricing, and not by assuming the cable channel bundles will keep customers from leaving, because that's no longer a safe assumption, Cochran said.
After losing customers and cutting capital investment early in Cochran's two-year tenure as CEO, the company recently received $165 million in private equity investment and plans to expand its network into new areas.
It expects to spend from $50 million to $75 million annually in network investment to reach 50,000 new homes in the Detroit area followed by other places where it's seeing pent-up demand, Cochran said.
"We now have the capacity to pivot," he said. "I don't think we will ever grow traditional video customers again, but we will grow."
Cochran cites a remarkable statistic explaining how the company feels validated in its shift: 45 percent of WOW's new subscribers take no video services at all.
Industry veterans saw it coming
In April, WOW became the first cable provider to roll out a new service, which it calls Swivel, that blends streaming video and traditional cable TV using a new kind of set-top box and software.
The technology is made by Evolution Digital, a Centennial-based company formed in 2008 to help smaller cable providers adopt digital technologies.
Through creating its own hardware, partnerships with companies such as TiVo Inc. and an acquisition of a video software business, Evolution Digital has positioned itself as a vendor able to help the second- and third-tier cable companies offer customers slick viewing guides, cloud DVR storage and technologies one might expect from Comcast or Charter.
A major difference from the big cable guys is that Evolution Digital's technology is built to combine cable channels and streaming services. Its on-screen user guide and program search software lets people seamlessly move between cable TV channels and streaming apps such as Netflix and HBO Now.
Evolution Digital is seeing other cable companies making similar moves to WOW as the economics of the video business change under their feet, said Brent Smith, Evolution Digital's president and CTO.
"Cable companies no longer want to be a gatekeeper. They want to be the portal for customers," he said. "They view themselves as the aggregator of choice."
Smith and Chris Egen, Evolution Digital's founder and CEO, had years of experience working in the cable set-top box and technology industry before starting their company, which employs 90 people.
Egan grew up around, and for several years worked for, the family business, Arris Group, one of the world's largest cable TV set-top box makers.
Smith helped develop technology at Scientific Atlanta, Cisco and other cable technology outfits, working largely in Canada, Europe and other international posts that showed him the variety of technology being used.
The set-top box industry has drifted into making high-powered and expensive technologies for the shrinking number of big cable companies, Egan said.
Evolution Digital formed to bring more affordable digital technologies to the rest of the industry.
To date, it has 20 million boxes being used by customers including WOW as well as Cable & Wireless, a Caribbean cable system purchased in April by Colorado-based Liberty Global; and Mexico's Grupo Televisa.
Evolution Digital started with small boxes that make digital cable TV signals compatible with older analog TVs, helping cable companies wire their customers' second and third TVs for cable after operators converted to digital transmission.
That product's success helped fuel Evolution Digital's development of a hybrid cable TV and streaming internet video box three years ago. It takes the streaming capabilities usually found in an Amazon Fire or Rovi box and combines it in the same device with a cable TV set-top box.
And instead of costing cable providers several hundred dollars, Evolution Digital can usually price its box under $100.
Last year, Evolution Digital acquired i-Velozity, a TV technology business with software engineering offices in India and South Korea. Evolution Digital has charged into developing TV software technology, hiring 25 more people in Centennial and employing 45 in India.
The result is the cable technology service WOW branded as Swivel. Egan predicts his company will announce another eight to 10 cable operators as customers for the service this year, with more to come.
Small cable is increasingly eager to find technology that keeps subscribers from being stolen away by the growing ranks of competitors.
"We're saying, 'Yes, you can make money. You can have the same essential technology as Comcast,'" Egan said.
It's a message many cable companies have been waiting for, he said.
Evolution Digital is already approaching $200 million in annual revenue, and it's just starting to roll out its cloud TV technology.
The privately-held company sees the evolving fortunes of small cable TV not as a gloomy struggle for survival, but as an enormous opportunity.
"We have no debt and no one to report to; we're working with partners we know well and all the decisions are made by people in this room," Egan said. "We're having a lot of fun."