VU-IT! eBOX® + IP Video
On Demand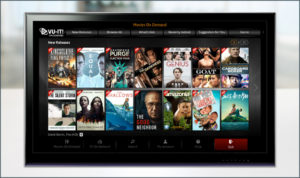 Evolution Digital is an official supplier for the NCTC's VU-IT! service. The VU-IT! service is a cost-effective billing system integration platform that provides enhanced services for TiVo devices to enable delivery of IP video services including IP Video on Demand. Currently, more than 24 NCTC member operators have deployed Evolution Digital's eVUE-TV IP video platform.
For VU-IT! customers, Evolution Digital provides its award-winning eBOX® IP Hybrid Set-Top Box and its eVUE-TV® IP VOD service. The low-cost eVUE-TV platform delivers IP VOD content with an improved user experience and poster art driven navigation. This delivers an immediate improvement on classic VOD services, drives deeper viewer engagement and provides bandwidth efficiency with IP distribution and MPEG 4 streams. It also enables the future deployment of IP Linear, Pay-Per-View and network DVR services.
The eVUE platform for VU-IT! customers includes the following components:
VOD back-office including content and metadata ingest
Interface to the hosted DRM platform
66TB of storage
Local acquisition of VOD content from MSO provided dockers and catchers
Local transcoding of content – MPEG-2 -> MPEG-4
Content encryption/protection – DRM integration
Encoding of content in up to 6 ABR profiles
ABR streaming origin
eVUE-TV VOD UI (application)
Support and Monitoring
VU-IT! IP VOD SYSTEM DIAGRAM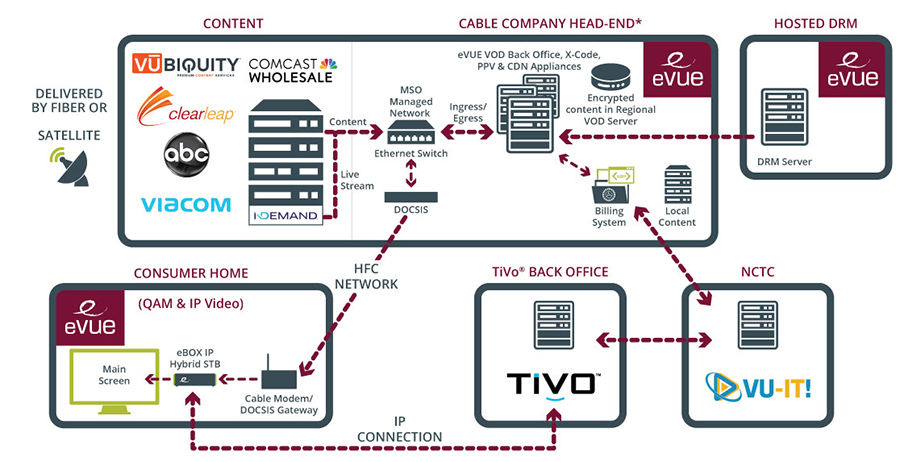 The standard IP VOD configuration includes the following:
eVUE-TV VOD Back Office

VOD Back office provides 66TB of content storage (Does not include storage of original assets)
Supports 10,000 hours of all HD content, transcoded into 6 ABR Profiles
OR – 30,000 hours of SD content transcoded into 4 ABR profiles

Number of transcoded hours varies based on HD/SD mix and percent of monthly churn

15K SD equivalent hour catalog (SD Only) will support up to 25% monthly churn and 150 hours of content transcoded daily
10K HD hour catalog (HD Only) will support up to 10% monthly churn and 50 hours of content transcoded daily
Blended 10K hour catalog (50/50 SD/HD mix) will support up to 14% monthly churn on HD content and 25% churn on SD content and 100 hours of content transcoded daily

eVUE-TV Standard appliance offers extreme flexibility through the SW modules controlling transcoding and streaming. We have the ability to dial up or down SW functionality.
NCTC members interested in launching Evolution Digital's eBOX IP Hybrid, along with the eVUE-TV IP VOD service, can order directly from the NCTC or through your Evolution Digital sales executive.