eMERGE™ — USER INTERFACE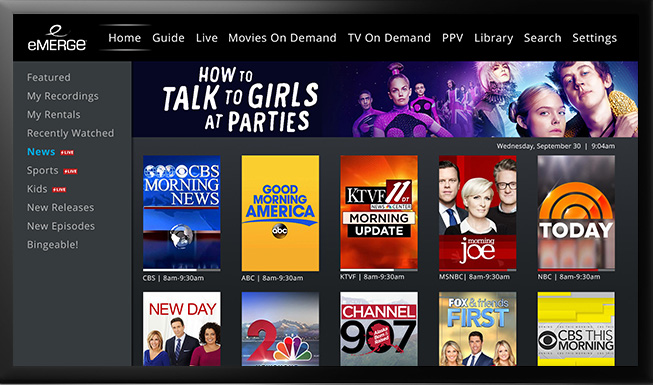 The Ultimate App-Based Viewing Experience
Evolution Digital's advanced app-based user interface, eMERGE, offers an operator-customizable streaming user experience available on connected devices including our eSTREAM 4K™, powered by Android TV™, streaming set-top box, as well as popular retail devices and platforms such as Apple TV®, Roku®, iOS® and Android™ mobile. This new user interface delivers premium entertainment features such as:
Graphic-rich look and feel that starts at the 'Home' page for impeccable navigation
Aggregation of high-value IP video, including eVUE-TV® (full line-up of the operator's live, Video on Demand, pay-per-view and network DVR programs), with third-party OTT streaming services
Operator-customizable menu categories, campaigns and featured programs
Deep linking and universal search across all content, allowing customers to find their favorite shows on a single user interface
Advanced trick play functionalities including catch-up and start-over viewing
Extensible platform enabling integration of Internet of Things (IoT) products and services into the user experience
Evolution Digital's eMERGE is ideal for operators seeking to compete in a rapidly-evolving video landscape by introducing to customers exceptional capabilities on an unparalleled user interface. As the abundance of content and video sources continues to grow, eMERGE seamlessly integrates the operator's IP content, enabled by Evolution Digital's eVUE-TV video delivery platform, across streaming sources onto one, unified platform. Consumers may now access their programming, as well as discover and navigate new content, more easily and cost-effectively than ever before. eMERGE hosts the best that video has to offer coupled with the operator's high-speed broadband in the home at an unbeatable value. eMERGE introduces innovative and groundbreaking opportunities for operators to generate new revenues and grow subscriber bases by offering first-class clients and services at a lightning-fast time-to-market.
Addresses needs of premium streaming video users
Runs on connected platforms like eSTREAM 4K streaming set-top box and popular retail devices
Pay-as-you-grow model with scalable deployment schedule
Upgraded and unparalleled look and feel
Aggregates content across streaming services
Cost-effective for customers
Advanced trick play with full Network DVR, Catch-Up and Start-Over functionalities
Graphic-rich user interface for simplified universal search and navigation